To the Vodní dům (Water House) with botanists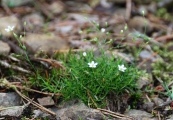 3.11.2017
Next week you can get acquainted with the work of botanists in the Water House Visitor Center.
What is botanical research about? How's it going? What it is good for?
The program is based on the story of endemic Minuartia smejkalii - from its distinction as a separate species, laboratory and field research to practical proposals for the care of its locality. This will be done by scientists from Průhonice Park and Chateau - the Institute of Botany the Academy of Sciences of the Czech Republic and their students.
You can read the beginning of story on picture and we can explain rest of the story at the Science and Technology Week of the Academy of Sciences of the Czech RepublicTýdnu vědy a techniky AV ČR.
Autor:
Arnošt Cetkovský
Kategorie:
regionální produkty
Projekt:
LIFE pro kuřičku